Nether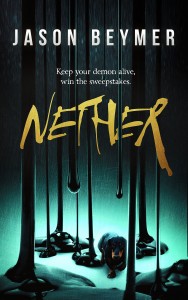 Keep your demon alive, win the sweepstakes.
Burklin had it all—a spacious house, a shapeshifting wife, a wide open future—until his father ripped out his soul and trapped it inside a dog. Now he's a slave, mopping up after a homicidal teenage demon. His father is sleeping with his ex, the possessed dog won't shut up, and the cleanup jobs keep getting messier. Burklin would give anything to have his life back—even if it means forfeiting his chance to win the Nether's sweepstakes.
Opportunity knocks with a dead woman's hand. When the demon's latest victim won't stay dead, the rules of life and death change. Freedom lies within Burklin's reach, but to get it he'll have to defy his father, the ex-wife he still loves, and the Nether itself. Just how far is he willing to go?
Warning: This title contains sex, violence, human cuisine, a smart-ass dachshund, and fun with corpses.