Rogue's Paradise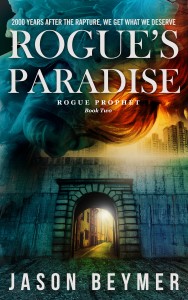 2000 years after the Rapture, we get what we deserve.
Welcome to Babelomorrah, a rogue's paradise teeming with casinos, brothels, and booze. With an airship watching from above and the Royal Guard's protection, Babelomorrah's ruler gets whatever she wants. And this redheaded vixen wants two things: a kingdom-wide plague and Doban.
The plague soon reaches Doban and Mona, where they've started a family in a small town. But six months of complacency tugs at Doban's rogue heart, and he craves escape—even if that means abandoning the family paradise Mona promises him.
His opportunity comes with a summons to Babelomorrah, where old enemies wait behind the city's high walls. There, Doban will face the sadistic redhead from his past, and make the most important decision of his life. Will he sacrifice the woman he loves for the paradise he's always wanted?
Warning: This title contains graphic violence, sex and shenanigans.